---
Wilderness therapy programs for troubled teens
Wilderness therapy programs for troubled teens provide an unique treatment approach, using the "wilderness" as the backdrop to therapeutic intervention. Through the challenges of living in the wilderness these programs are able to help struggling teenagers in a way that no other intervention program can. For more information about wilderness therapy programs please contact our Educational Consultants.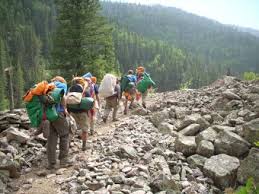 The premise of a wilderness therapy experience is that natural "wilderness" environment provides an experience that lasts forever. There is something powerfully therapeutic about getting away from all the distractions and being in the wilderness. No cell phones, no friends (girls or boys), no negative peer pressure. The outcome is amazing. Teens that have been resistent to all forms of therapy do very well in the wilderness environment. Their resistance level drops dramatically.
The top wilderness programs create incredible life-changing experiences for struggling teenagers. These therapy programs help troubled teens make better choices in every area of their life. We represent only the most recognized wilderness therapy programs. Essentially, wilderness therapy programs bring about real heart change by teaching powerful life skills in a wilderness environment.
---
Alaska (AK)
,
Alabama (AL)
,
Arkansas (AR)
,
Arizona (AZ)
,
California (CA)
,
Colorado (CO)
,
Connecticut (CT)
,
Dist of Columbia (DC)
,
Delaware (DE)
,
Florida (FL)
,
Georgia (GA)
,
Hawaii (HI)
,
Iowa (IA)
,
Idaho (ID)
,
Illinois (IL)
,
Indiana (IN)
,
Kansas (KS)
,
Kentucky (KY)
,
Louisiana (LA)
,
Massachusetts (MA)
,
Maryland (MD)
,
Maine (ME)
,
Michigan (MI)
,
Minnesota (MN)
,
Missouri (MO)
,
Mississippi (MS)
,
Montana (MT)
,
North Carolina (NC)
,
North Dakota (ND)
,
Nebraska (NE)
,
New Hampshire (NH)
,
New Jersey (NJ)
,
New Mexico (NM)
,
Nevada (NV)
,
New York (NY)
,
Ohio (OH)
,
Oklahoma (OK)
,
Oregon (OR)
,
Pennsylvania (PA)
,
Rhode Island (RI)
,
South Carolina (SC)
,
South Dakota (SD)
,
Tennessee (TN)
,
Texas (TX)
,
Utah (UT)
,
Virginia (VA)
,
Vermont (VT)
,
Washington (WA)
,
Wisconsin (WI)
,
West Virginia (WV)
,
Wyoming (WY)
,
---
Services Offered for Help with Troubled Teens
https://www.restoringtroubledteens.com/troubled-teen-services.html
The educational consultant services offered by Restoring Troubled Teens is all about finding the perfect therapeutic boarding school, residential treatment center, boot camp, or wilderness therapy program.
Support Groups for Parents of Troubled Teens
https://www.restoringtroubledteens.com/support-groups.html
The best thing the parents of troubled teens could do for themselves is to join groups for support, but it is usually the last thing they do, at least during the midst of the hardest part of the crisis.
Page: Prev | Next